The Fromm Tower Droid, also known as a guardian droid and sentry droid, was a heavily armed droid designed by Tig Fromm, the son of the noted Annoo-dat crime lord Sise Fromm, and manufactured at his secret base on the planet Ingo. Four meters tall, with a cylindrical tower extending from an armored chassis, the Tower Droid could travel at speeds up to 100 kilometers per hour on six large pneumatic wheels. The Tower Droid was fitted with numerous sensors, and could respond to nearby threats with its arsenal of four laser cannons and two repulsor ball launchers. Tower Droids were primarily used by the Fromm Gang as perimeter sentries, but they were also used by the Confederacy of Independent Systems at the Battle of Xagobah during the Clone Wars. In 15 BBY, many Tower Droids were destroyed during the rescue of the captive speeder racer Jord Dusat from Tig Fromm's base, leading Fromm to increase production to cover
the losses. Soon after, both Tig and Sise Fromm were captured by the bounty hunter Boba Fett. The Fromms' rivals seized their assets, and the remaining Tower Droids were dispersed around the galaxy.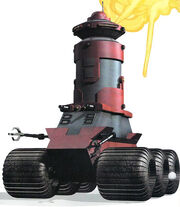 Ad blocker interference detected!
Wikia is a free-to-use site that makes money from advertising. We have a modified experience for viewers using ad blockers

Wikia is not accessible if you've made further modifications. Remove the custom ad blocker rule(s) and the page will load as expected.